RESTLESS HEART AWARDED 2017 OPERATION TROOP AID® CHRIS KYLE PATRIOT AWARD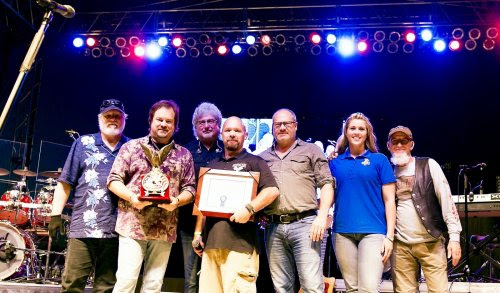 Photo credit:
Darren Zemanek
Photo ID left to right: John Dittrich, Larry Stewart, Greg Jennings, Mark Woods (Operation Troop Aid), Dave Innis,
Mandi Taylor (WKYQ-FM), Paul Gregg
Nashville, Tenn. (September 6, 2017) — Nineties hit-making country music group

Restless Heart

has been awarded the

2017

Operation Troop Aid® Chris Kyle Patriot Award

. The band was presented with the award this past Saturday night at the Touchdowns & Tunes Festival in Mayfield, Kentucky.
"Over the past 11 years of this award, it has been amazing learning about each artist and how they have supported our troops throughout their careers," says OTA CEO

Mark Woods

. "In addition to touring overseas many times to perform for our military, what makes Restless Heart even more special is the number of their very own family members who have served our nation, one even receiving the Medal of Honor. Bravo, Restless Heart. Well deserved."
Each year, the Chris Kyle Patriot Award is presented to an artist or entertainer who goes above and beyond to support our troops. Past recipients include Kid Rock, Hank Williams Jr., Kellie Pickler, Gary Sinise, Aaron Tippin, Darryl Worley, Charlie Daniels, and Toby Keith. The award, formerly the Operation Troop Aid

®

Patriot Award, was renamed in honor of the late Chris Kyle, a highly decorated Navy SEAL sniper.
"What an honor to receive such an important award!" says Restless Heart lead singer

Larry Stewart

. "We've always prided ourselves on supporting the men and women in uniform. We love our country and our military and place our experiences on multiple world tours and the amazing folks who've become our friends at the very top of our memory list. It's such an honor to be recognized."
Restless Heart vocalist and pianist

Dave Innis

adds, "It is always a highlight for me, and for Restless Heart, to perform for our troops and for events that celebrate the amazing sacrifice our men and women in service continue to make for the greatest country in the world. It is humbling to be recognized by Operation Troop Aid, honoring a true American hero, Chris Kyle. Thank you from the entire Restless Heart organization for this prestigious appointment!"