SHENANDOAH RETURNING TO GRAND OLE OPRY STAGE FOR FIRST TIME IN NEARLY 25 YEARS
SHENANDOAH RETURNING TO GRAND OLE OPRY STAGE FOR
FIRST TIME IN NEARLY 25 YEARS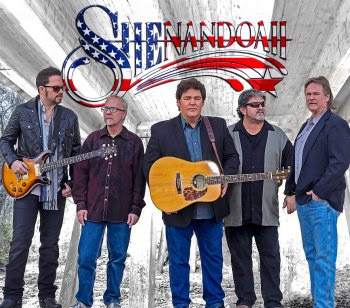 Iconic Country Group to Play on Legendary Opry Stage this Friday and Saturday Nights
Live in Nashville, Tennessee
Nashville, Tenn. (May 4, 2016) - This weekend, for the first time in nearly 25 years, legendary country music group Shenandoah will return to the stage of the Grand Ole Opry. After a 17 year absence, lead singer Marty Raybon has returned to front the group who will perform on the Opry stage this Friday night, May 6 and Saturday night, May 7.
"With great excitement after almost 25 years, we will once again have the honor of playing the Grand Ole Opry," says Raybon. "It truly is like no other feeling, standing on that stage where so many country music greats have stood."
Shenandoah's Mike McGuire adds, "I can still remember what a thrill it was for a bunch of young kids when we had the opportunity to play the Grand Ole Opry for the first time. Knowing that our parents all grew up in the generation of AM radio and listening to the Grand Ole Opry on WSM, we knew how special it would be for them as well. It was one of my fondest memories and one of our biggest highlights of our career seeing the smiles on the faces and the tears in the eyes of our parents and how special it was to them to see their sons play at the 'mother church of country music.'"
The group's return to the Opry stage is the latest highlight of what has been a very busy year for the boys from Alabama. The band recently performed at the Academy of Country Music's (ACM) All-Star Jam in Las Vegas and also just released their first-ever Gospel album, Good News Travels Fast.
This weekend's Opry performances are just a couple of stops included on the group's 2016 tour schedule.
2016 Shenandoah Tour Dates:
May 5 - The Tift Theatre - Tifton, GA
May 6 - Grand Ole Opry - Nashville, TN
May 7 - Grand Ole Opry - Nashville, TN
May 14 - La Vernia City Park - La Vernia, TX
May 27 - Knuckleheads - Kansas City, MO
May 28 - Rustique Ampitheater - Lancaster, TN
May 29 - Mudbug Madness - Shreveport, LA
June 25 - DABA Annual Fireworks Fest - Denver, NC
Jul 1 - Balloon Festival - Ridgeland, MS
Jul 2 - Breathitt Heritage Fair- Jackson, KY
Jul 8 - Dosey Doe - Spring, TX
Jul 22 - Anderson Music Hall - Hiawassee, GA
Jul 23 - The Texan Theatre - Greenville, TX
Jul 30 - River Bend RV Resort - Watertown, WI
Aug 13 - Manchester Music Hall - Lexington, KY
Aug 20 - Windsor Harvest Picnic - Windsor, IL
Aug 27 - Rio Grande Scenic Railroad - Alamosa, CO
Aug 28 - Rio Grande Scenic Railroad - Alamosa, CO
Sep 4 - SamJam - Piketon, OH
Sep 9 - Silver Dollar City- Branson, MO
Oct 7 - Arlington Music Hall - Arlington, TX
Oct 8 - Conway's Dancehall - New Braunfels, TX
Oct 12 - The Mansion Theatre - Branson, MO
Oct 13 - The Mansion Theatre - Branson, MO
Oct 14 - The Cotillion - Wichita, KS
Oct 15 - Hoyt Sherman Place - Des Moines, IA
Oct 19 - The Mansion Theatre - Branson, MO
Oct 20 - The Mansion Theatre - Branson, MO
Oct 21 - Bluegate Theater - Shipshewana, IN
Oct 22 - Meyer Theater - Monroe, MI
Nov 12 - The Newton Theatre - Newton, NJ
Nov 18 - Newberry Opra House - Newberry, SC