Bellamy Brothers 40th Anniversary Tour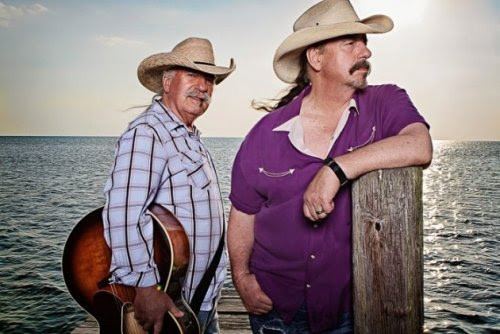 From Absure Publicity:



Nashville, Tenn. (September 23, 2015) - This week, country music's legendary duo the

Bellamy Brothers

boarded a plane for Europe to kickoff the second leg of their

40th Anniversary Tour

. While overseas, David and Howard Bellamy will perform several concert dates in Norway and Switzerland before returning to the United States to play more than 20 additional shows before the year's end (see schedule below for a complete listing of all upcoming tour dates).

"This has been an incredible year," says

David Bellamy

. "Our tour schedule has been one of the most extensive in years and the offers keep coming in. With four international tours and more than 100 dates in the US, we've yet to have an 'off' weekend."



Howard Bellamy

adds, "Performing on stage is all we know... hell we've been doing it for 40 years. As long as folks keep wanting to hear our music we'll stay on the road and will continue to put out new music. Our universal fanbase continues to thrive and grow so here's to 40 more years!"

This year marks four decades in the music business for the Bellamys, one of country music's most successful duos. To celebrate their career milestone, the brothers recently released

Bellamy Brothers: 40 Years

, a 2-disc set containing 20 rerecorded versions of some of their classic hits as well as 20 all-new songs.

The brothers have also teamed with

S

usan G. Komen®

to "let their love flow" for people facing breast cancer, with a new music video and campaign to benefit Komen. Now through December 31, 2016 they will donate $1 of every U.S. iTunes download of their new 40 Years album to Susan G. Komen to help fund breast cancer research, education and community outreach programs.



Bellamy Brothers 40th Anniversary Tour Schedule:


Sept 23 - Jessheim, Norway - Ullensaker Kulturehus
Sept 24 - Drammen, Norway - Drammen Theater
Sept 25 - Sandefjord, Norway - City Center
Sept 26 - Schupfart, Switzerland - Schupfarten Festival
Oct 9 - Bellville, TX - Austin County Fair
Oct 10 - Lufkin, TX - American Cancer Society Cattle Barron's Ball
Oct 13 - The Woodlands, TX - Dosey Does
Oct 14 - Waco, TX - Heart Of Texas Fair & Rodeo Extraco Events Center
Oct 16 - Houston, TX - (Texas Exes Fall Party) Firehouse Saloon
Oct 17 - La Marque, TX - Bayou Fest Highland Bayo Park
Oct 18 - Yorktown, TX - Yorktown Western Days- Texas Music Festival
Oct 19 - San Antonio, TX - 48th Annual White Game Dinner White Museum/Brackendridge Park
Oct 23 - Marion, IL - Marion Cultural & Civic Center
Oct 24 - Winchester, OH - Red Barn Convention Center
Oct 30 - Stafford, TX - Redneck Country Club
Oct 31 - Ft. Worth, TX - Stagecoach Ballroom
Nov 6 - Wendover , NV - Peppermill Concert Hall
Nov 7 - Laughlin, NV - Avi Resort & Casino
Nov 13 - Panama City Beach, FL - Automotive Hotrod Festival
Nov 14 - Pinellas Park, FL - Pinellas County Fair. England Brothers Park
Nov 27 - Waxahachie, TX - Rockett Cafe & Club
Nov 28 - Ft. Worth, TX - Whiskey Girl Saloon
Dec 4 - Hankinson, ND - Dakota Magic Casino
Dec 5 - Bristow, OK - Freeland Center For The Performing Arts
Dec 12 - Llano, TX - Lantex Theatre


About the Bellamy Brothers

For 40 years, the Bellamy Brothers have been an unassuming picture of consistency in country music, crafting honest, heartfelt songs that connect with millions of listeners around the world. Howard and David Bellamy have weathered the changing trends of the music business admirably, enjoying enormous success throughout their career with numerous No. 1 hits on both the Pop and Country charts. Evidence of the brothers' continued popularity today isn't hard to find. In 2009 alone, "Let Your Love Flow" received the distinguished BMI Five Million Performance Award and was listed at No. 68 on their Top 100 Songs of the Century. It was also prominently featured in the critically acclaimed AMC television series Breaking Bad. The '70s smash even broke into the Top 20 on the UK Country charts again – 34 years after it was first released.